BLUE FLOOZY written by Mia X and directed by Yuri Alves is a tour de force cinematic poetry film that will make you shiver!
BLUE FLOOZY by MIA X | One Take Poetry
Renowned spoken word poet Mia X, unfurls a powerhouse performance in this cinematic rendition of her original poem "Blue Floozy." Directed by award-winning filmmaker Yuri Alves, with an inspired original score by Boris Ivanov. Presented in 4K. Available with English and Portuguese subtitles.
Directed by Yuri Alves
Poem Written & Performed by Margie Mia X Johnson
Producers: Igor Alves, Yuri Alves
Composer: Boris Ivanov
Cinematographer: Yuri Alves
Sound Editing and Mix: Mert Ozcan
Assistant Camera: Caroline Sincaruk
Colorist: Gabriel Kurzlop
Sound: Victor Buitrago
Post Production Sound Services: The Record House
Post Production Color Services: DreamPlay Productions
Production Company: DreamPlay Media
Filmed on location in Newark, NJ.

#BlueFloozy #OneTakePoetry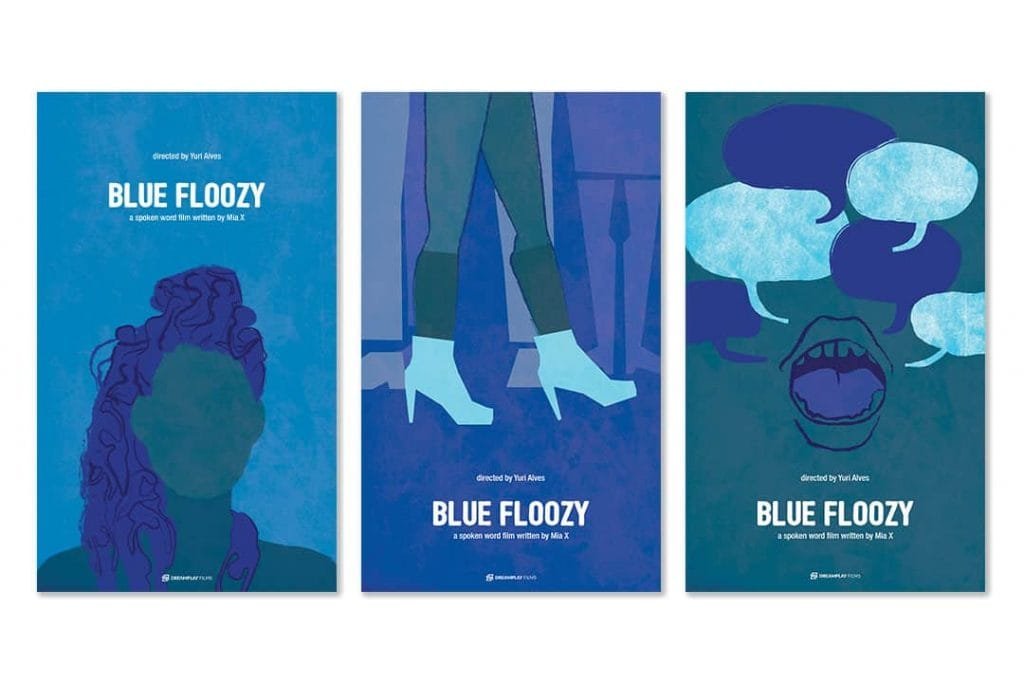 About Mia X
Margie "Mia X" Johnson, mom, writer, poet, teaching artist, BA in African American Studies, Temple University. Specializing in youth development, community outreach, empowerment and culture creation. She's an advocate for youth, community and art. Influenced by jazz and hip hop, she conjures everyone from Sojourner Truth to Lady Gaga. She uses creativity and word power to passionately touch hearts while writing herself into existence; primary host and producer of The People's Open Mic, longest running open mic in the city of Newark. The creator and producer of Hug the Block, a public art experience of poetry, visual art, live music and hip hop ciphers that bring love and light to Newark neighborhoods.
TRANSCRIPT
Loose screw
mixed mind up
glue fake hair to fake mindset
with grand visions out jive eyeballs of blue
much more than who you know yourself to be
mixed mind up
glue fake hair to fake mindset
with grand visions out jive eyeballs of blue
much more than who you know yourself to be
a floozy?
Ex-queen…
accustomed to sweet salt chinney chin wiped off dean…
bombarded with negative images…
white washed themes
lost
in her own queendom.
Blue floozy of a brother too
lost his throne
his behavior says he's worthless
matter clogged with bones of brothers dead before him
racing towards the unknown sun
searching…
going bump in the night
every time the beat thumps
jumping like the punk he is
disposition trite
unable to read
her temple walls.
Blue
He wish he could read
Blue…
We lie so much that we wish we were true.
But who are we?
Floozy in a book!
Floozy children running amuck
wild ignorant to a home cooked meal.
Where is home?
Floozy need a loan for pampers and weed.
Floozy don't read
don't right their wrongs
don't sing the songs their mother's long to record.
Bored with life
Challenge floozy kids!
Question why they did what they did and then hid in a freezer.
Scribble out their little faces, ice their fevers
burning in America's incinerator later in her jails
they are counting the beds,
banking on the fact that we hate ourselves.
Misunderstand our blackness
Empty and cold
Weep for the Floozy in you!
Blue. Blue. Faces, places
things now, aces, spaces, deuces wild
Floozy Jokers
Floozy Fools
Floozies know the game but don't know the rules!
We're living one life
I teach you choose
How deep is your blue?
Blue
Blues
ONE TAKE POETRY | Original series
Titillating spoken word performances by poet-warriors with heart… captured in a single, uninterrupted take. #onetakepoetry
DreamPlay TV channel featuring stories and performances that celebrate artists, musicians, and creatives of all stripes. #bravissima