What if you felt invisible in your own home? Poet and actor Jesslyn Blue yearns for connection beyond artifice in this enveloping spoken word short film about broken love. Directed by Yuri Alves.
GET IT RIGHT by Jesslyn Blue | One Take Poetry
In the intimacy of her own home, poet and actor Jesslyn Blue yearns for connection beyond artifice in this enveloping spoken word short film about visibility and broken love. Directed by Yuri Alves.
Written and performed by Jesslyn Blue
Directed by Yuri Alves
Producers: Igor Alves, Yuri Alves
Composer: Boris Ivanov
Cinematographer: Yuri Alves, Gabriel Kurzlop
Assistant Camera: Caroline Sincaruk
Colorist: Gabriel Kurzlop
Sound Editing and Mix: Mert Ozcan
Sound Recording: Victor Buitrago
Post Production Sound Services: The Record House
Post Production Color Services: DreamPlay Productions
Production Company: DreamPlay Media
Filmed on location in Newark, NJ.
Special thanks:
Aline Kurzlop

#BlueFloozy #OneTakePoetry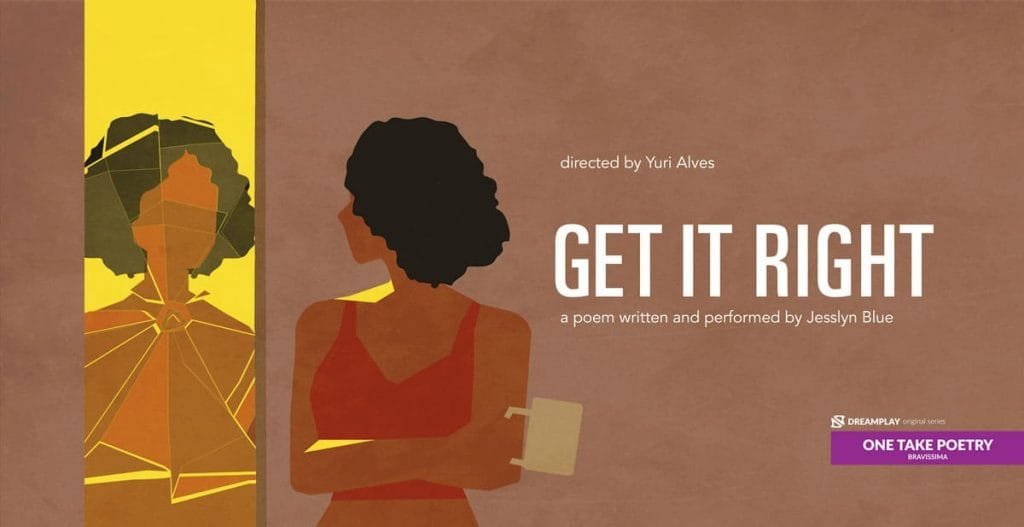 GET IT RIGHT – Original Artwork. Designed by Rochelle Anne Bernal. DreamPlay Media.
Jesslyn Blue is originally from the Jersey shore and sleeps best to the sound of waves clashing onto sand. She is proud to have graduated from Rutgers University with a B.A. in English. She has performed at Nuyorican Poets Café, Scholarism Presents: Hip Hop; Poetry Cypher, Mixology, Media in Meter: A Poetry Newsfeed, Mixed Pleasures Open Mic; Showcase, The People's Special, Rock the Mic Night, Brick City Speaks, Soulsational Festival, and the Military Park Reading Series. She founded and facilitated for over two years a bi-monthly creative writing workshop which now includes art events, Open Words, at the Newark LGBTQ Center to promote literacy, the art of the written word, and provide a safe space for the community to express their stories.
Blue's second publication of poems, C'est La Vie: The 2nd Edition, is out and available for purchase on Amazon and elsewhere. Blue has edited poetry and essays, including books, memoirs and a collection of short stories. Blue is also a model and actor. Currently, Blue teaches for the Reading Institute and is at work on a poetry CD, The Phoenix Project.
"I just want to love you, and be who I am."
Follow Jesslyn Blue: Instagram | Facebook | Twitter
TRANSCRIPT
Live wire dancing in the moonlight
Touch me
Transfer energy
We'll do this all night, till dawn's break,
till we get it right
Mash-up disproportionate pasts with uncharted future
Geometric puzzle pieces scattered on cotton covers
No sleeping
Loud novel of body language
I read your strut into the kitchen
Notepad sketches of half-finished thoughts I ate for dinner
We drink Pepto labels wrapped on beer bottles
Don't throw stones in glass houses you do not own
Burn the bed
No sleeping
You threw me off the roof into the sky
I laughed until impact, got high on clouds
Sally Skellington taught me needle and thread
Death is another door
Sewn up limbs and organs
Version 5.0 stands taller
What doesn't kill you makes you stronger
Shut your mouth
Open your chakras
There is magic when you…
Touch me, transfer energy
We'll do this all night, till we get it right,
We're all trying to get it, right?
ONE TAKE POETRY | Original series
Titillating spoken word performances by poet-warriors with heart… captured in a single, uninterrupted and cinematic take. #onetakepoetry
Featuring stories and performances that celebrate artists, musicians, and creatives of all stripes.